Folkestone Engineering Supplies - Optics
Discovery Optics
Discovery is a new brand started in 2014, the factory was founded in 2005, by an ex-designer of Vortex.
The factory has attracted well-known manufacturers and distributors of international brands of optical sights on the market, and continue to manufacture and improve products for many world famous companies.
Discovery Optics is a fusion of many years of experience of experts and the use of new technologies.
Great quality and great value.

Prices start from £69.99 for VT-R 2-12x42AOE

Only £139.99 or VT-2 4-16x44SFIR Only £149.99
Gun Mart Magazine, Optics Special March 2018 Issue said;
The VT-2 model features pleasingly low profile 1/4MOA tactical turrets and side parallax adjustment
down to a pre-marked 10yards. The floating reticle is nice and precise, and is marked with Mill dots
and half Mill points. Red or green illumination is possible too, with five brightness levels in each.
With good image quality and edge to edge sharpness, all wrapped up in a boldly presented scope,
it's a steal at the price!
All Discovery scopes & accessories are brought in by Order, typically within 2 working days.
For full product range details and prices please see Discovery

Price Beat, Yukon and Pulsar
WE WILL TRY AND BEAT ANY GENUINE QUOTE - JUST ASK.

Full range of night vision products from Pulsar and Yukon, NightMaster available to Order.

Thomas Jacks - retailer.
The Yukon Photon - Ideal for rimfire or airgun.
Product Description
Now featuring a digital reticle, with one shot zero function as seen on the popular Pulsar Digisight N550/N750/N750A range.
The reticle is selectable with six options, each option being switch able between Red, Green and White.
• 60mm Eye relief
• 810nm IR illuminator with 3-step power adjustment
• Minimum focusing distance of 10m 4.3° Field of View (7.5° at 100m)
• Display resolution of 640x480 with a LCD display and camera resolution of 656x492
• Video out for capturing footage
• Weaver accessory rail for addition of after market IR illuminators such as the Pulsar IR X850
• New lens cap designed to reduce light transmission should the user with to setup the scope during daylight
• Ability to use any standard mounts for daylight sights
• Extended operating time of up to 5 hours from internal batteries (2x AA)
• IPX4 IP rating
• Three year warranty
Pulsar Digiforce 860VS digital Night Vision Monoculars
Try before you buy? Then a demonstration on our land can be arranged.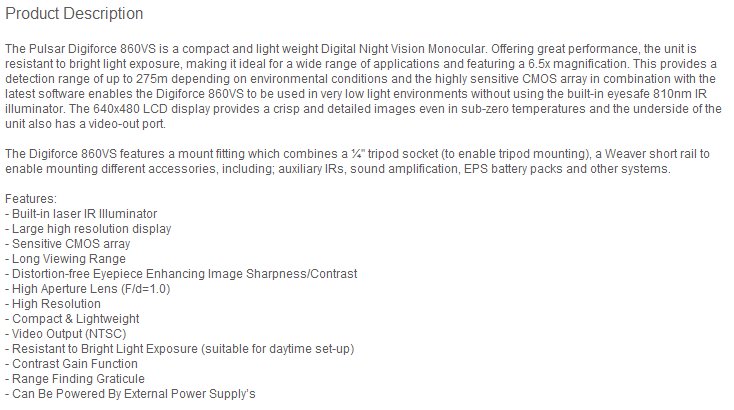 Full details of all Pulsar and Yukon product please see www.thomasjacks.co.uk

Pulsar Thermal Monoculars - All types available to order.
Full details of all Pulsar and Yukon product please see www.thomasjacks.co.uk


e&oe